I am very pleased to announce that my painting Number 334 has been selected for the exhibit "Contemporary South" at the Visual Art Exchange in Raleigh. This show surveys artists working across the south chosen by Chad Alligood, curator at the Crystal Bridges Museum. This is a very strong show, I highly encourage you to see it while it is up.  Show up through January 29 at Visual Art Exchange, 309 W. Martin Street, Raleigh, North Carolina 27601 919.828.7834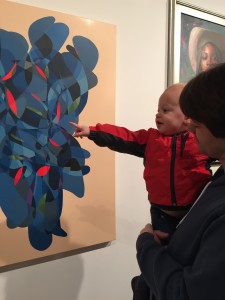 From the VAE website:
The Exhibit
The South is emerging as a hub for creativity, with Raleigh as its capital! Contemporary South will bring region's best artists right here to Raleigh with the help of prestigious and acclaimed curator, Chad Alligood.
This exhibition showcases a survey of artwork currently being made in the regional south, across a wide range of media and aesthetic. A total of 58 pieces were chosen for this survey of southern art.
The Juror:
Chad Alligood, curator, Crystal Bridges Museum of American Art, Bentonville AK. Chad recently visited over 1000 artists across America in order to build Crystal Bridges' current exhibition "State of the Art" which showcases the work of over 100 artists,ranging from works on canvas and paper to photography and video to installation and performance art, and more.
Chad earned his Bachelor of Arts in History of Art and Architecture from Harvard University, his Masters of Arts in Art History from The University of Georgia and is currently finishing his Ph.D. in Art History from City University of New York while working at Crystal Bridges Museum.
Watch Chad Alligood on CBS News as he and others discuss about "State of the Art"!
Exhibition Run…………………………………….…………..…January 2-29, 2015
Opening Reception………………………………….…….…….January 2, 6-9pm