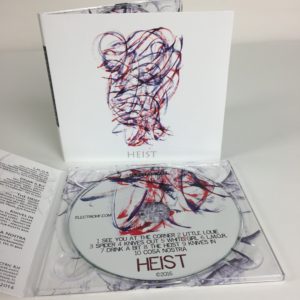 I am pleased to announce that one of my favorite bands is using my artwork for the cover of their new album!
Miami's Electric Kif released their third album, Heist on March 10, 2017. I was ecstatic when they contacted me in September of last year, as I have been playing their album Take Your Time in my studio since 2015. The guys were awesome to work with. They sent me a pre-release copy of the album to play while I worked. I created many drawings for them during the process, but the guys immediately reacted to a drawing from September 25, 2016 at 3:03pm. Above is the CD digipak and below is the promo poster. The album is available online in the US and in Tower Records across Japan, or directly from the band on tour. Pick up a poster on tour or order one directly from me.
They stopped by my studio this week on while on their east coast tour. Here is a video of me explaining my process for drawing their album cover.