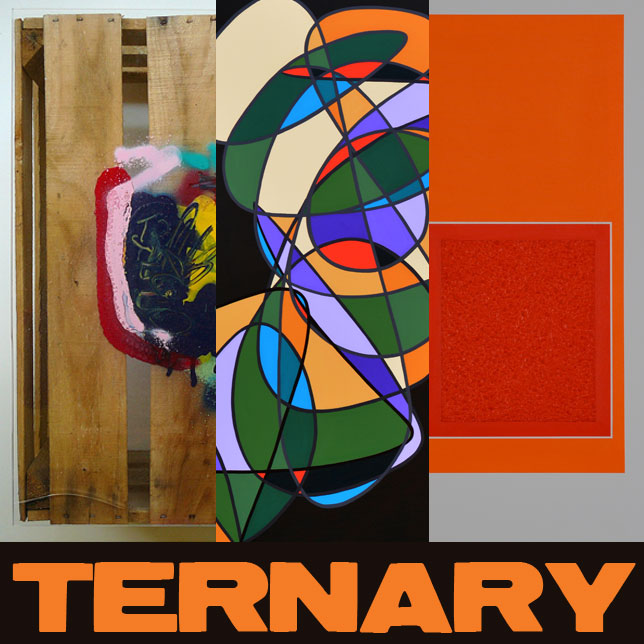 I am pleased to announce I am taking part in a 3 person show in Durham, opening next week at The Carrack Modern Art in Durham.
Ternary: 3 Durham Abstract Painters is a show by three young artists unified in their bold use of color and commitment to working in Durham. Inspired by the Washington Color School, Joe McDonough, Ross Ford and Ryan McKellar wish to reignite a serious conversation about color and abstraction in Durham.  The Carrack is located at 111 West Parrish St, Durham, NC 27701
Join us during the March 15th Third Friday in Durham to meet the artists, see the show and enjoy refreshments.
Opening Reception Friday, March 15 6:00 – 9:00 pm
Artist Talk: March 21, 6:00 pm
The exhibit will be on view from March 12-23 during normal hours Tu-Fr: 12 – 6 pm, Sat: 2 – 5 pm and by appointment
We have several musical performances planned to take place at the gallery during the exhibit:
Wednesday, March 13, 8:00 pm City of Medicine (metal/hardcore) and Bella Vita (instrumental hardcore)
Thursday, March 14, 7:00 pm Cavalry (alt folk)
Friday, March 15, 6-9:00pm 3rd Friday: Artist Reception
Saturday, March 16, 7:30 pm Workbook (acoustic soft jazz duo) and Spencer Scholes (acoustic rock)
Sunday, March 17, 8:00 pm Bella Vita (instrumental hardcore), Fanghole (instrumental rock) + Napalm Donut (hardcore punk from Pittsburgh) Facebook event here.
Thursday, March 21, 6:00 pm Artist Talk

Friday, March 22, 8:00pm Prypyat (guitar/cello), Violent Dreams (melodic hard rock), Bella Vita (loud instrumental rock)
For more info, please see http://thecarrack.org/exhibit/ternary